---
---
SCI-FI/FANTASY

Forgotten Colony - sci-fi, alien world
New Earth - post-apocalyptic, coming of age sci-fi
Gamer - sci-fi, gamelit, coming of age
Swift - urban fantasy, angels and demons
Silver Silhouette - urban fantasy, mythological creatures

HAREM ADVENTURE (mature readers)

Dirty Girls - harem/sexually explicit - alien worlds
Dystopian Girls - harem/sexually explicit - post apocalyptic
Island Girls - harem/sexually explicit - alien worlds
Joah Maroon (continuation of Island Girls series) - harem/sexually explicit - alien worlds

---

DYSTOPIAN GIRLS SERIES
All 7 books available on Amazon.
Dystopian Girls is a harem adventure style novel written for adult readers. This book has sexual content, profanity and violence.
Mason, a good guy in a post-apocalyptic world tries hard to cling to his values despite the new dystopian society. In a world where most survivors are female, and healthy males are rare, he overcomes his timid personality to draw the most attractive and powerful women to his side.
Sexually charged and action packed, Dystopian Girls is an adult oriented novel that puts you in the mind of a respectable young man determined to make the best of a bad situation. When reality begins to match up with fantasy he needs to carefully navigate his journey to keep everyone alive and happy, including himself.
---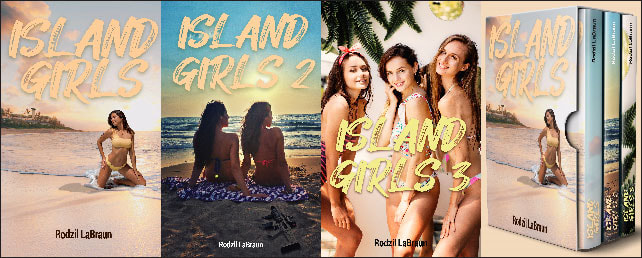 ISLAND GIRLS SERIES
Complete series of 3 books available on Amazon.
Joah Maroon, an ex-military, club bouncer passes out in a Mexican hospital, then wakes up on a paradise island surrounded by beautiful women. Despite this apparent turn of luck, he is a prisoner. And part time circus monkey.
Forced to compete in deadly games and entertain unseen viewers, Joah plots escape as he draws his new female friends closer. The tropical island home is deceptively enticing but unforgiving. As his world changes, new reality alters his motivation. He must escape his one of a kind prison, but not alone.
Island Girls is a new harem adventure novel by Rodzil LaBraun. This book is intended for MATURE READERS ONLY, due to profanity, violence and sexually explicit scenes.
---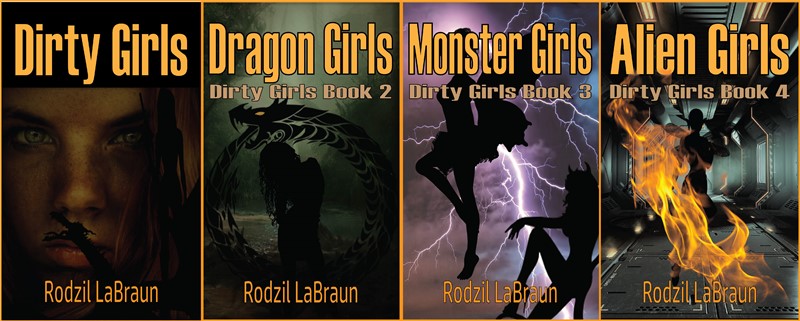 DIRTY GIRLS SERIES
4 books available on Amazon. Expect this series to have several more installments.
Dirty Girls is a harem adventure novel that includes popular science fiction and fantasy elements. This series is for mature readers only due to violence, profanity and sexually explicit scenes.
Kash is wrongfully convicted of a heinous crime and sentenced to death. When given the option to participate in an underground scientific experiment, renewed hope emerges. He eagerly agrees.
Though the choice appears to be simply swapping one method of execution for the other, he follows orders and steps through a mysterious portal. It lands him unprepared for an alien world that would test his will to survive.
Strange beasts, including enormous flying lizards, populate a deadly planet bent on killing him. His best chance to survive is then tied to an unbelievable sighting. Human women, covered in dirt.
If you enjoyed Dystopian Girls or Island Girls, then you'll love Dirty Girls which takes a creative in depth look at a way in which an unlikely man may find himself in a unique harem situation.
---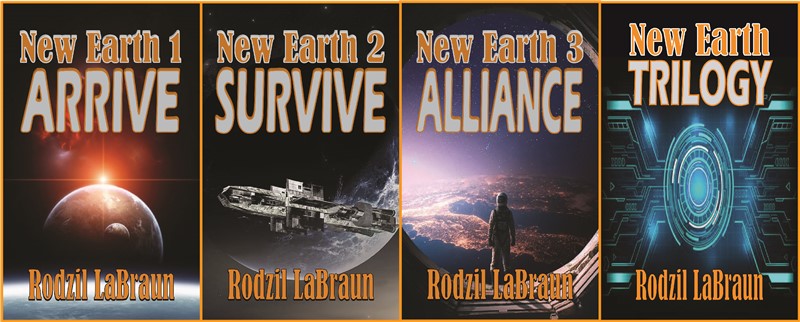 NEW EARTH SERIES
Complete series of 3 books available on Amazon.
Earth is destroyed. Mankind's existence is questionable. A handful of ships launched for the nearest habitable planet is the only hope. Generations come and go during the long journey. Finally, with departure imminent, a series of revelations shocks the crew and creates disunity. Their entire existence had been a lie.
An optimistic young man named Lincoln steps up to help lead his people through the perils of this new world as everything that they thought they had known about life is turned upside down.
"Arrive" is the first book in the New Earth series that will lead readers through surprises and delights as mankind must start all over again in harsh and unpredictable environments.
---
---
​

Rodzil LaBraun is a creative storyteller that has been inventing unique worlds and alternate realities all his life. He writes what he likes to read: inventive environments, imaginative points of view, and believable characters. He proposes that a far fetched world does not mean that the characters must have extreme personalities or repeatedly make unwise decisions. As humans we spend most of our life in the mundane, but we ourselves are far from boring. We like to escape to new worlds and meet new characters with which we can relate.

His works of fiction include individual books and series in harem adventure, science fiction, and urban fantasy. Intrigued by constructing realistic adaptions of the mythological, paranormal, apocalyptic and superhuman, Rodzil's stories are always unique.
---
SIGN UP for BiWeekly Newsletter!
Private: Your email address and information is NEVER shared with anyone else.
Respectful: You'll only receive 1 email from us every two weeks, MAXIMUM.
Contact Rodzil LaBraun by email at rodzillabraun@gmail.com